Calendar
Show time 7:30pm, 3rd Thursday of each month. Tickets $10.00 at the door.
Chinese Bunkhouse
Britannia Shipyard, 5180 Westwater Drive, Steveston BC
Click HERE for a map of the location.
Thursday April 20th Chinese Bunkhouse at Britannia Shipyard
"Gary Poole" Show time 7:30 pm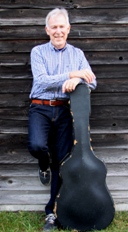 Singer-songwriter Gary Poole returns to the Guild for an evening of home-grown music.
Gary was a creative force behind the group Marilyn, Hudson, Carr and Poole, writing their hit singles
"For Today"
and
"Is It Any Wonder?"
The group went on to record for CBC radio and television. A writer of songs with memorable melodies and lyrics, Gary has more recently performed at such venues as the Orpheum Theatre (with the VSO) and Richmond's Gateway Theatre. Gary came to our notice about 18 months ago, and has since performed several time for SFG, charming the audience with his well crafted songs on life and relationships. For the Guild, Gary will sing some of his songs about a world that is sometimes wildly complex and sometimes beautifully simple. Having said all of that, we think you should come and see for yourself.
Thursday May 18th Chinese Bunkhouse at Britannia Shipyard
"Robert Hubele" Show time 7:30 pm

Musician, storyteller, and blue collar icon of Canadian life, Robert Burton Hubele a writer and performer of original blues-jazz, with a catalogue of experiences as varied as the stylings of his bluesy jazzy songs. Always a songwriter first, Hubele has created his tenth & eleven cds.
,"She won't talk to me"
, is a collection of blues/jazz/pop original, with the title songbeing performed both solo and with a full band, in the feature length movie
"No Men Beyond This Point"
. Robert's 2nd cd of 2016,
"The Sleepy Time King"
, is a children's album of 9 orignal songs, plus two original stories, written about, and to entertain his 5 grandchildren. As a songwriter Hubele writes about ordinary things that become extraordinary with just a little extra care. Robert plays cool guitar and slide-dobro, and likes to inject a little humour and a few tales to accompany his songs. Robert Hubele's earliest influence was the earthy beat and emotional impact of the blues as he played along with recordings of B.B. King, Howlin' Wolf, Willie Dixon, Muddy Waters, and Freddie and Albert King. His introduction to jazz, happened through Chuck Tracy, a veteran lounge musician. Listening to Chuck rehearse Robert got turned onto music from Tom Waits, Mose Allison and Fats Waller, Bing Crosby, Dean Martin, Benny Goodman, Cab Calloway and Louis Jordan. There is an inevitable country influence in Robert's music, which comes growing up in the prairies with the songs of Hank Williams, Hank Snow, and Marty Robbins.